Terrace Gardening – The Finishing Touch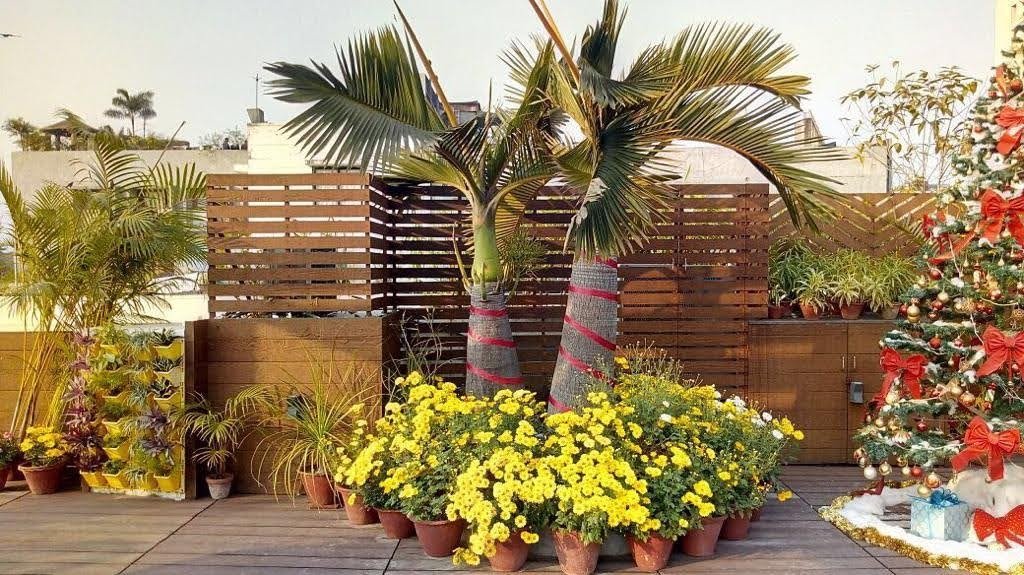 The growing population and hectic lifestyle in concrete structures are becoming a challenge to have a healthy green existence. Setting up a garden in such places is nothing less than a dream for many. But for those who are blessed with terraces or rooftops, there are many new innovative terrace gardening techniques. For those facing space constraints, terrace gardening is a great solution.
Terrace gardening techniques are for people who love having a garden at home but are unable to have one due to insufficient space to grow plants and trees like people living in small flats or houses. Terraces or rooftops are the best places to construct a garden as they have ample sunlight and water.
Terrace gardening serves many other purposes other than providing access to greenery and acting as a recreational place.
It helps in reducing pollution and purifies the air
It releases us from mental stress and turns out to be a great cause for exercise
It regulates the house temperature, especially in summer
We can have chemical-free vegetables and fruits
With practical terrace gardening techniques and creative ideas, a terrace or rooftop can be transformed into a lovely relaxation zone with lighting, seating and water bodies. But before you go ahead there are a few terrace gardening techniques that you need to consider which are as follows:
Check the capacity of the roof slab
The first and foremost step is to check if the roof is strong enough to bear the weight of a terrace garden which usually includes the waterproofing system, the soli, containers, seating and not to forget the plants. An accurate analysis of the building concerning columns and load-bearing walls should be taken into consideration to determine the exact location for the gardening setup. In some cases, a cantilevered roof cannot support much weight.
Pre-treatment of the terrace floor
Another essential factor to consider is the drainage points and stagnation of water. As leakage and stagnant water can lead to cracks in the roof and cause long-term damage. So the location for terrace gardening has to be waterproofed with a chemical compound like bitumen. For proper drainage, you can use a layer of PVC drainage cells and geotextile fabric before pouring in the soil.
Specific soil mixture
The soil used for terrace gardening is different from outdoor garden soil. It must be a combination of regular garden soil, fertilizers and soil conditioners to promote proper drainage and be light weighted at the same time. Soil conditioners are necessary to retain water and nutrients in the soil.
Selection of the right plants
It is necessary to have the right mix of plants like ground cover, shrubs and flowering plants. You should also be careful to select plants that best suit the regional climate, terrace condition and the amount of sunlight available to it.
Placement of aesthetic items and seating arrangements
Incorporating proper lighting, seating and aesthetic elements in the appropriate place can help you enjoy the rooftop garden to the fullest. It is preferable to go for movable all-season furniture that can withstand weather conditions.
The final terrace gardening technique is the maintenance and after-care that are required to keep the garden flourishing.